Improve Your Tyler Home's Exterior
Complete Quality Remodeling is here to provide complete satisfaction when it comes to your shutters, soffit, and siding. Our home remodeling contractors specialize in hands-on exterior repairs for homes of all sizes, and we're confident that we can address your property needs in a professional and timely manner. We offer quality services and materials, including James Hardie siding, to ensure that you love the stress-free outcome!
Our remodeling contractors can repair a range of exterior materials, including:
Brick Siding

Stucco Siding

Wood Siding

Vinyl Siding

Stone Siding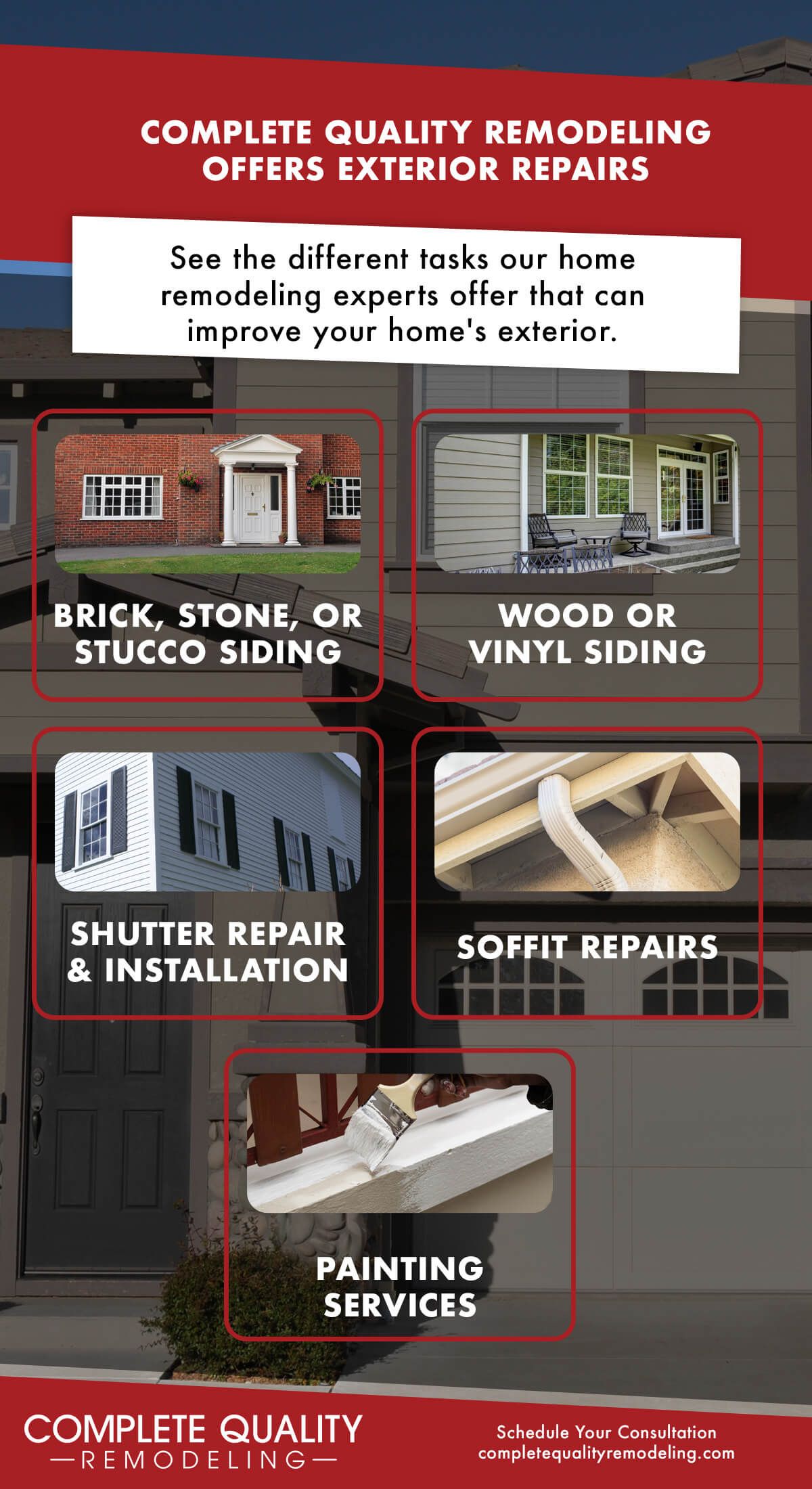 Professional Exterior Repairs
Are you in need of exterior repairs for your shutters, siding, or soffit? At Complete Quality Remodeling in Tyler, Texas, we bring more than 30 years of hands-on knowledge and experience to the table, ensuring that your home repairs are done the right way the first time around. No matter the situation, you can count on our remodeling company for honest consultations and high-quality workmanship.
Give Your Building the Help It Needs
Whether you need the siding fixed on your home or a repair for your outdoor storage shed, we're the team to turn to. At the end of the day, we believe that it should be easy for people to get the help they need to keep their home in good working order — and that's why you can count on us to go above and beyond to provide exceptional service for any project. Finding the right contractor to handle your exterior repair can often feel overwhelming, but when you choose Complete Quality Remodeling, you can rest assured that we'll handle your repair with ease.
Do you have a question about the repair process? In need of an estimate for your project? Looking for handyman services? Whatever the case may be, we'd be glad to help. Contact Complete Quality Remodeling today to schedule an appointment.
Schedule an Appointment
Get in touch to get stared!